Calling on the River
This Prayer Bowl was in the show "Beads, Birds, and Blues" at Columbia City Gallery. It features Amazonite, Ruby Ziosite, Cowrie Shells, Fossilized Coral, as well as Bugle and Seed Bead adornment. Calling on the River is a tribute to my Ancestors who turned over iron pots and kettles and prayed into them so as not to be heard and to honor their Ancestral traditions.
Ancestral Flower
Sold:
Bead Mosaic
"Beads, Birds, and Blues" Exhibit Columbia City Gallery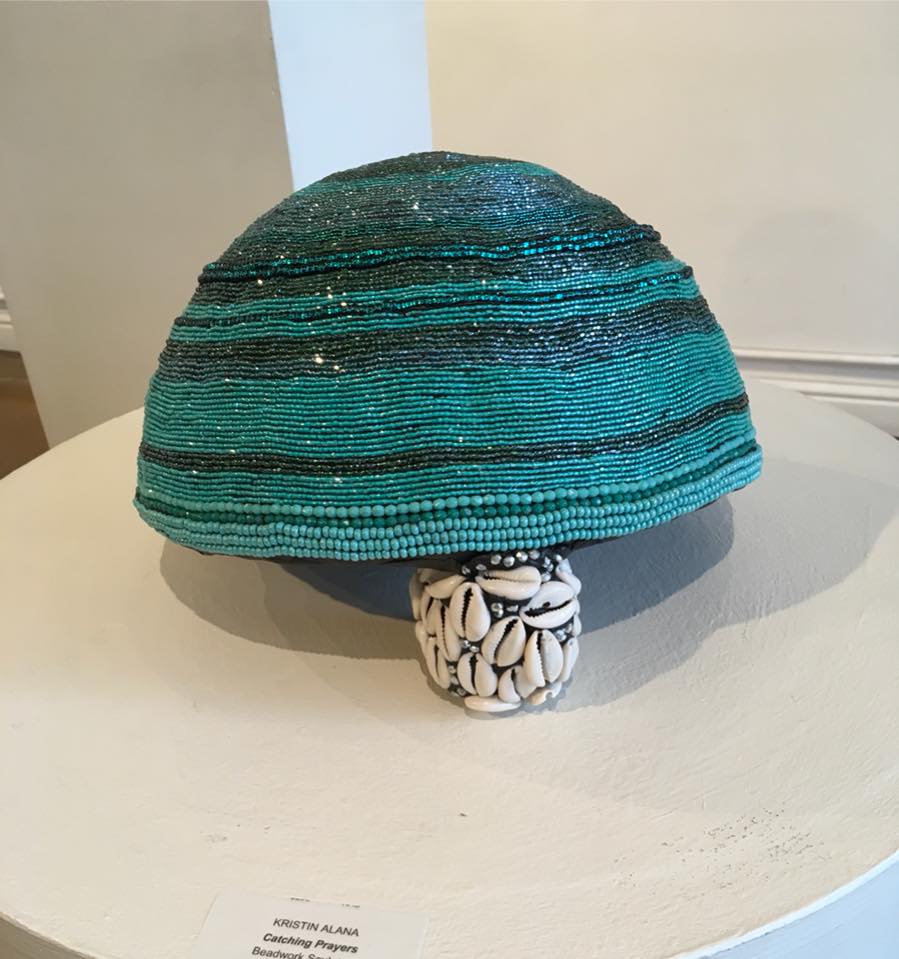 Catching Prayers
Catching prayers was featured in the show "Beads, Birds, and Blues" at Columbia City Gallery. Made of Seed beads and Swarovski Crystals. The inside has cowrie shells and coral adornment as well as a Cowrie shell and Swarovski Crystal stump.
Sold: Private collector
Mother at Midnight
In this piece I really wanted to share my perspectives on the color black. Black is a beautiful color that is extremely powerful. As a Black woman I know what it's like to live the multi-faceted views of blackness, based on my own reflections and other people's projections. In this piece I wanted to show how light reflects from the blackness and the beauty, depth, and complexity that is found within it.
Mother of the Healing Waters
"I am the mother of the healing waters, I represent the healing within your hands and the hands of humanity. I offer a reminder to lead in service from the heart. I represent the mother's and the mother's mother's and all the women who have served from their hearts."
My prayer is that her healing waters flow like a river into your heart, inspiring you to honor your divine expression and service to humanity.
Mosaic, Seed Beads, Swarovski Crystals on Watercolor Board. 2017
Out of the Abundance of the Heart
This piece is inspired by an old parable "Out of the abundance of the heart the mouth speaks" I began to meditate on what our hearts are really speaking. When we look at all that is around us what patterns, thoughts, and energies are swirling around us. This piece in my meditation reflects energy. Out of the abundance of the heart energy speaks.
Mermaid Queen
I got up at 3am with an image of a Mermaid in my head. I went into my studio and laid out beads that I was drawn to "I want to blend in with the waters" I heard as I chose Emerald green, Turquoise, and Lake Blue beads and laid them out on my table. As I began to work with this image, I wanted to give her a big beautiful mane, and I kept getting "No, I want to move in the waters, blend in, I don't have hair!", but the muse wanted a Crown and a spear because she is a fierce protector. A fierce warrior in the waters.
Glass Seed Beads, Mother of Pearl on Watercolor board, 2017
African Grey Adventure
Have you heard the story of the African Grey? You know how much I love stories....maybe one day I will share it with you? But in the meantime may this piece serve as a reminder that no matter what anyone sends your way, you will rise above it all.
Embroidery, Seed Beads, Leather, 2017
Ancestress
"Go within and find your power!" while meditating I had a small piece of clay that I worked with my hands until this face emerged. A guardian and healer from the edge of the river. A water Spirit. Njuzu. Bantu Traditions.
Seed Beads, Clay, Wood, 2017
Ms. Honey's House of Healing
Behind these doors lives a woman who can heal with a song. Her voice is like honey and her healing is unparalleled. Mirrors reflect back those who are not ready. But for those that are brave enough to enter her doors, will be replenished.
Wood, Seed Beads, Mirror, 2017
Mermaid at Sea
This bead embroidered brooch is made of glass seed beads, swarovski crystals, and bugle beads.
Sold: Private Collector
Coral Goddess
This piece is available at Columbia City Gallery. It is made of Glass Seed beads as well as Swarovski Crystals.